This article is an expansion based on a canon element. For canon information on this topic, follow the link to The Witcher Wiki:

Witcher schools

.
| | |
| --- | --- |
| | This fan-fiction article, Witcher schools, was written by Witcher190 and Adalwulf of Aedirn. Please do not edit this fiction without the writers' permission. |
The Witcher schools are the organizations which train and equip Witchers, the itinerant monster slayers. While schools differ in mindset and details of training, most of them teach equally professional hunters. Headquartered in seclude locations, each one is built on the blood, sweat, and tears of countless children who stood within them, honing their technique and skill.
Split off from the original Order of Witchers created in the 10th century, the schools continued to train new generations of witchers. Most of them had fallen up to the first half of the 13th century under various human attacks, but at least some of them were rebuilt and continued to function even in the next centuries.
This picture is outdated and needs to be updated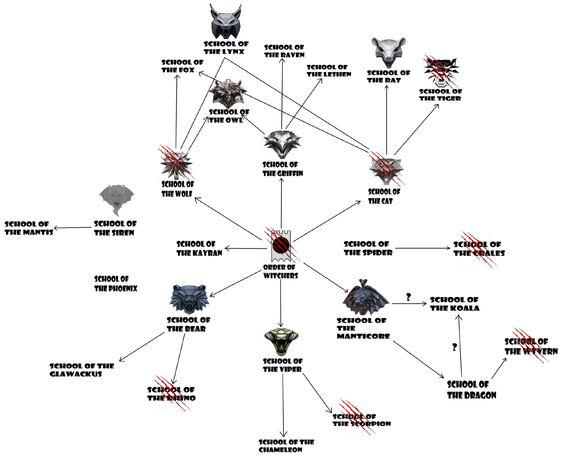 Witcher Schools by region
The Continent
Northern Kingdoms and the Empire of Nilfgaard
Order of Witchers (Original witchers) [Status: Extinct] ( Specialty: All types of monsters )

School of the Wolf (Founded in the year 980 by Barmin, from the Witchers who had stayed after the dissolution of the Order of Witchers. The School was officially dissolved in the winter of 1272 following the death of the witcher Vesemir who had served as the last albeit unofficial Grandmaster.) [Status: Extinct] {Based in: Kaedwen} ( Specialty: Balanced type of combat.)

Hybrid offshoot of the Wolf and Cat Schools

School of the Fox (Founded in the year 1010 by Velcal) [Status: Extant] {Based in: Vicovaro} (Original Specialty: Second chances for Witchers & Currently: Second chances for Witchers and preparation for future Conjunction of the Spheres through unification of the other schools.)

School of the Cat (Founded by Kodan*fanon*, following the incident that led to the dissolution of the Order of Witchers. The old witcher group at Stygga was wiped out and Gezras of Leyda*canon* founded the new mobile version of the Cats who would use the Dyn Marv Caravan) [Status: Extinct] {Mobile} (Specialty : Humanoids)

School of the Rat [Status: Unknown] {Nomadic} (Specialty: Stealth and humanoids)
Hybrid offshoot of the Cat and Wolf Schools

School of the Lynx (Before 14th century) [Status: Extant] {Nomadic} (Specialty: Direct successor to the Cats and Wolves methods)

School of the Griffin (Founded by Erland of Larvik, following the incident that led to the dissolution of the Order of Witchers) [Status: Rebuilt] {Based in: Kovir & Poviss} (Specialty: Magic-based type of combat)
School of the Bear (Founded by Arnaghad, following the incident that led to the dissolution of the Order of Witchers) [Status: Rebuilt] {Based in: Amell Mountains} (Specialty: Endurance & Toughness)

School of the Glawackus [Status: Extinct] {Based in: Nazair} (Specialty: Extreme defense)
School of the Viper (Founded by Ivar Evil-Eye, following the attempted assassination of Arnaghad) [Status: Rebuilt] (Since 14th century) {Based in: Tir Tochair Mountains} (Specialty: Dual wielding short sword combat and research on the Wild Hunt)

School of the Manticore

[Status: Extinct] {Toussaint} (Specialty: Alchemy)

School of the Spider offshoot
Unknown Predecessor if any
Far East
Unknown Predecessor if any
School of the Cat offshoot

School of the Tiger [Status: Extinct] {Mobile} (Specialty: Outcasts from the School of the Cat)
School of the Manticore

[Status: Extinct] {Based in: Zerrikania} (Specialty: Alchemy, Shields and Convoy Protection)
Far North
Far South
Northwest Continent
Eastern Continent
School of the Manticore offshoot

School of the Koala [Status: Unknown] {Based in:

Eastern Continent

) (Specialty: Unique mutations)

School of the Rat offshoot

School of the Racoon [Status: Unknown] ( Based in:

Eastern Continent

) (Specialty: City and human-like/humanoid monsters)
Western Continent
School of the Griffin offshoot

School of the Crane [Status: Extant] {Based in:

Sachs Mountains

} (Specialty: Sea and air monsters)
Hybrid offshoot of Cat and Wolf Schools
Hybrid offshoot of Bear and Lynx Schools
School of the Bear offshoot

School

of the Boar

[Status: Extant] {Based in:

The Plai

ns

} (Specialty: Big / Huge monsters)
School of the Crane offshoots
Scho

ol

of the Flamingo

[Status: Extant] {Based in:

East

ern Coast

} (Specialty: Swamp monsters)

School

of the Condor

[Status: Extant] {Based in:

Northe

rn Coast

} (Specialty: Small monsters)

School of the Bat

[Status: Extant] {Based in:

F

abiola

} (Specialty: Night monsters)
Trivia